Mega Vault Millionaire – new $1,000,000+ million jackpot! 
Are you a jackpot hunter? Do you love playing at online casinos? Do you like games from the Microgaming network? Are you looking for exclusive promotions with free spins? If you answer in part yes to these questions, this article is for you!
We are pleased to present you the latest jackpot game from the Microgaming studio. Here is the Mega Vault Millionaire – the long-awaited progressive game, which premiered a few days ago. This is not an ordinary game because it was created in close cooperation with Microgaming and the Casino Rewards Group, and will be available only in few casinos.
We hope you enjoy our article describing this game and the bonuses that accompany it. Happy reading and later playing :).
The Jackpot Family 
Mega Vault Millionaire is, in fact, a continuation of the series called Mega Moolah. The following titles already exist in this family: Mega Moolah (itself), Mega Moolah Isis, 5-Reel Drive, The Dark Knight Rises, and Mega Moolah Summertime Edition. Each of these has different themes, which makes them very attractive to many players. What these games have in common is a shared prize pool that increases with each passing second. In addition, any stake wagered in this game partially contributes to the overall pot.
Like other Mega Moolah variations, Mega Vault Millionaire is a 5-reel slot machine with 25 paylines to win from left to right. Players can set bets from as low as 25 cents and increase up to 6.25 per spin. In other words, you can bet 1 to 5 coins per line at either 0.01, 0.02, or 0.05 in value. Admittedly, this is a fairly good ratio of stake to prize amount! It is also worth writing that it is a high volatile game with an average payout to player of around 92%.
Once you set your coin size and value you want to bet, it is simply a matter of pressing the spin button to get those reels moving. You will need to get at least three matching symbols along one of the winning combinations in order to get a money prize.
Standard Symbols & Payouts 
This game has standard lower value symbols that actually appear in card games. These include 9,10, Jack (J), Queen (Q), King (K), and Ace (A). Much like in card games, the higher the card, the higher the payout.
10 symbol payouts:
3x – 2 coins
4x – 10 coins
5x – 40 coins
Jack symbol payouts:
3x – 3 coins
4x – 15 coins
5x – 60 coins
Queen symbol payouts:
3x – 4 coins
4x – 20 coins
5x – 75 coins
King symbol payouts:
3x – 6 coins
4x – 30 coins
5x – 100 coins
Ace symbol payouts:
3x – 8 coins
4x – 40 coins
5x – 150 coins
Alongside these are five higher value icons that are all based on fame and wealth. These are presented below together with the amount of coins that you can win by forming winning combinations:
Money Bundle symbol payouts:
3x – 10 coins
4x – 50 coins
5x – 250 coins
Glitzy Watch symbol payouts:
3x – 20 coins
4x – 100 coins
5x – 400 coins
Sapphire Stone symbol payouts:
3x – 30 coins
4x – 125 coins
5x – 500 coins
Gold Bars symbol payouts:
2x – 4 coins
3x – 40 coins
4x – 150 coins
5x – 600 coins
Glamorous Princess symbol payouts:
2x – 6 coins
3x – 50 coins
4x – 250 coins
5 x – 750 coins
Alongside these ten standard symbols, there are two others on the Mega Vault Millionaire game that are special in that they enable you access to one of the main bonus features. We will brief both these two symbols hereafter.
Wilds, Scatters & Payouts 
The first of the special icons on the Mega Vault Millionaire slot is the jewel casket symbol. This symbol serves as the Wild on the reels, which means it substitutes any of the other symbols on the reels to create the best winning lines possible.
Another big advantage of the jewel casket symbol is that it also multiply any win that the symbol is a part of, so for instance land two gold bars and the casket on the first three reels on a winning line and that would pay you out 80 coins, rather than the 40 coin standard for three gold bars on a paying line.
Furthermore, if you land successive casket wild symbols across the reels then that will also unlock a special prize, including the biggest base game payout.
Jewel Casket Wild symbol payouts:
2x – 15 coins
3x – 125 coins
4x – 1,500 coins
5x – 15,000 coins
The other special symbol on the reels is the golden egg symbol, which is the Scatter. You can trigger a cash prize when landing two or more of these symbols anywhere across the reel (they do not have to be on a specific line) and the payouts for these are calculated based on the size of your bet.
Golden Egg Scatter symbol payouts:
2x – 50 coins
3x – 75 coins
4x – 500 coins
5x – 2,500 coins
In addition, the Golden Egg Scatter also allows you to trigger the Free Spins bonus in the Mega Vault Millionaire slot, where even bigger prizes can be achieved. Just land three or more of the icons across the reels to start the feature with 15 Free Spins. All wins during the bonus rounds are tripled, which means you can scoop up to 225,000 coins during the Free Spins. It's even better since you can re-trigger Free Spins within the bonus game by landing three or more Eggs once again.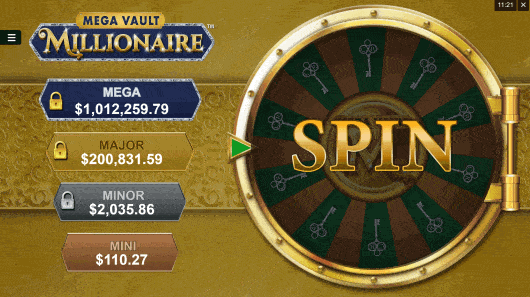 Jackpot Wheel Bonus
Like in the original Mega Moolah slot, Mega Vault Millionaire has 4 jackpots. However, unlike most progressive slots that reset the jackpot pool to zero after a win has been recorded, in this game jackpots are reset to fixed amounts. This attracts the jackpot hunters to keep playing even after the jackpot has been won. The max wins are determined by the jackpot you hit:
Mini Jackpot starts at $10.00
Minor Jackpot starts at $100.00
Major Jackpot starts at $10,000.00
MEGA Jackpot starts at $1,000,000.00
As you probably noticed, we have not mentioned how you can win any of the four different Mega Vault Millionaire progressive jackpots yet. Why? Simply, you cannot win the jackpots playing the standard game. However, on every real money spin, you have a chance of triggering the Jackpot Wheel Bonus. To conclude, your chances of triggering this bonus feature are always the same, regardless of how much is your bet.
When the Jackpot Bonus starts an off-the-screen game will pop up with a large wheel with a single pointer and different coloured sections on the reels. The majority of these segments are the bronze Mini and silver Minor with a smaller number of green Major sectors and just one diamond Mega segment is on the wheel. The section that the pointer stops on will determine to the progressive jackpot prize you win.
If you win a Mini, Minor or Major jackpot, then the prize will be automatically added to your balance and you can then continue playing. Should you win the MEGA jackpot, expect direct phone contact from your casino to arrange the payment. Good luck!
Play Mega Vault Millionaire with exclusive bonuses! 
As we mentioned at the beginning, Mega Vault Millionaire is only available in some casinos. To make it easier for you, we decided to list the casinos that we think are the best. In addition, these casinos offer free spins and deposit bonuses for new players. Check it out:
Casino Classic – 1 no deposit free spin after sign up! Plus, 40 extra spins on 1st deposit, and 100% bonus (up to $200) on 2nd deposit.
Cosmo Casino – 150 free chances after depositing of at least $10.
Grand Mondial Casino – 150 free chances on $10 deposit!
Yukon Gold Casino – 125 free chances on $10 deposit!
Captain Cooks Casino – 100 free chances when you deposit $5 only!
Zodiac Casino – 80 free chances on $1 deposit only!
Quatro Casino – 700 free spins on 7 different games ($100 deposit needed)!
Luxury Casino – $1,250 in 5 cash-match bonuses!
Golden Tiger Casino – $1,500 free credits on first 5 deposits!
Casino Action – $1,250 free cash in the 5-tier welcome pack!
Grand Hotel Casino – $5,560 free chips up for grabs in deposit offers!